The Best Productivity System for You: How to Find the Right Tools
There is no one-size-fits-all productivity system.
What works for someone else may not work for you, and that's okay!
In order to find the best productivity system for you, it's important to understand what you need in a system and what your goals are.
Note: This post may contain affiliate links, which means if you buy from my link I might make a small commission. This does not affect the price you pay. See the full affiliate disclosure

here.
This blog post will help you do just that!
We'll discuss the different types of productivity systems and give you tips on how to find the one that is right for you.
So let's get started!
The Best Productivity System for You
The first step in finding the best productivity system for you is to understand what you need from a system.
Do you need something that will help you keep track of your tasks?
Do you need something that will help you stay organized? Or do you need something that will help you focus and get work done?
Once you know what you need, you can start to narrow down your options.
There are a few different types of productivity systems: task-based, goal-based, and time-based.
Task-based systems help you keep track of your tasks and make sure that you're completing them.
Goal-based systems help you stay focused on your goals and ensure that you're making progress.
Time-based systems help you manage your time and make sure that you're using it effectively.
Once you know what type of system you need, it's time to start looking for one that will work for you.
Let's look at some of the different options available out there.
[cboxarea id="cbox-vmcPlCRRrzPdHuRr"]
Productivity tools
It's no secret we live in a world of increasing distractions.
Social media has made it easier than ever to fall into a cellphone-shaped rabbit hole, email dings must be checked like, RIGHT NOW, and with everything we have going on whether it's kids, or school, or work, or side hustles or all of the above, there's no shortage to the things begging for our attention.
It's never been easier than now to do literally anything other than what we're supposed to be doing in any given moment.
Like most of us here, I've got big dreams, big goals, and a penchant for procrastination. So I've built an arsenal of tools that I use on a daily basis to keep me productive and distraction-free.
The Forest App – the best productivity tool to keep you off your phone
I've written before about how I use the Pomodoro Technique to keep me focused on the task at hand and what a wonderful, low-tech system it is.
I've also written about how smart phones can be the worst productivity killer out there, and how having it turned off or unreachable is a good productivity hack.
Well, the Forest app combines both of those things and in a really cute and gameable way.
I love to collect things and work towards goals. And this app allows you to turn your productive time blocks into a visual collection!
When you start a task, set the timer on the Forest app for your designated amount of time. If you follow the Pomodoro technique to the letter, you can choose 25 minutes, but if you need more or less time that's fine too.
The app will grow a tree for that length of time.
If you stop the timer or use your phone for anything else during that time period, you lose your tree.
But when you're done, your tree is added to your forest a really cute little visualization of all the time you've spent being productive.
Even better, you earn coins with each tree you grow, and you can spend those coins on new and different kinds of trees and right now as I write this, I'm growing a moon tree. How cool is this?!
As someone who easily falls into the trap of thinking checking this one notification won't hurt, this app has been a gamechanger for me. You can get it free here.
My Stalogy notebook and planner
Some productivity tools just work better in analog form. The best productivity system for you might not be digital!
I know a ton of bloggers and business owners who swear by Trello, Google calendar, or any other kind of digital planner, to-do list keeper, and notes holder.
But I'll always be a pen and paper girl at heart.
I got my Stalogy from Amazon and believe it or not, it's one of the best purchases I've ever made for my business. If you're a notebook addict like me, you know how important it is to find THE perfect notebook for a project, and I've got to be honest, for me this one is it.
I keep all of my blogging-related miscellaneous in there.
My to do lists, my post ideas, little thoughts I have that I don't want to lose, it all goes in here.
This is what I use for my brain dumps and my bizarre stream-of-consciousness style planning process.
Then, to keep it orderly, I schedule it out and track it in the planner I've designated for work stuff.
I use a separate planner for everything else, so this planner is just for work stuff and very utilitarian.
Right now I'm using this undated planner and it fits all of my to do lists and time blocking like a champ – and it's crazy affordable!
These two books together are, hands down, the absolute best productivity tools I use on a daily basis.
You don't have to use a paper planner or a physical notebook but I couldn't run my life without these guys!
They're the real behind the scenes MVPs.
Personal development books and industry-related content
I'm on a mission to read more personal development books in general, and lately I've noticed a trend in myself.
When I find myself reading a really good book, one with a mix of actionable advice and inspiration, that really fires me up and makes me feel like I can do anything and my productivity is through the roof.
I feel invincible. I believe I can fly, and I'm just stoked to go and draw up the blueprints for my wings.
Inspiration has a way of firing up your brain like nothing else really can.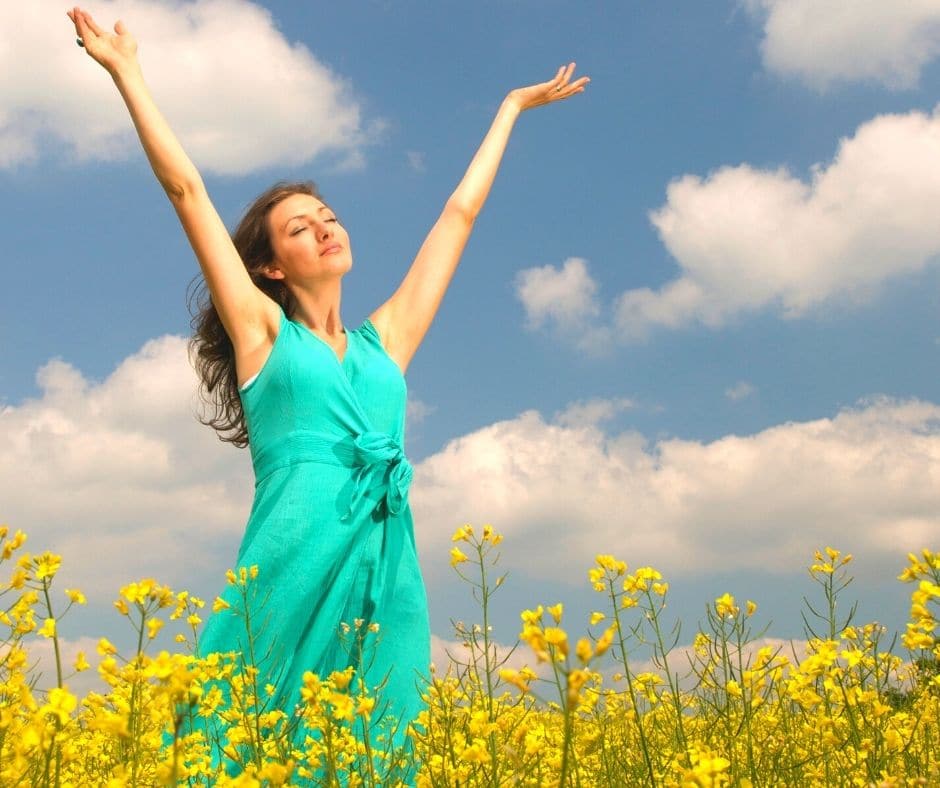 While you shouldn't rely on that feeling to keep you working towards your goals, it can be a super valuable tool to pull out when you aren't 100% feeling it (or if a field of flowers to run through isn't nearby, haha).
Some my favorites are You Are A Badass and Think and Grow Rich. These two keep me in the zone and help me focus on my end goals.
For my other passion, writing fiction, I have a list of authors I look up to that very helpfully share craft and industry advice, on YouTube, through courses or their own blogs or mailing lists and I devour that, too.
The key here, obviously, is to keep that media consumption to non-working hours (of course!) and work it into your leisure time.
But by keeping my head "in the space" I find myself looking forward to my working and writing hours, and staying excited about hitting my goals.
Try reading some motivational books and see if that adds to your productivity!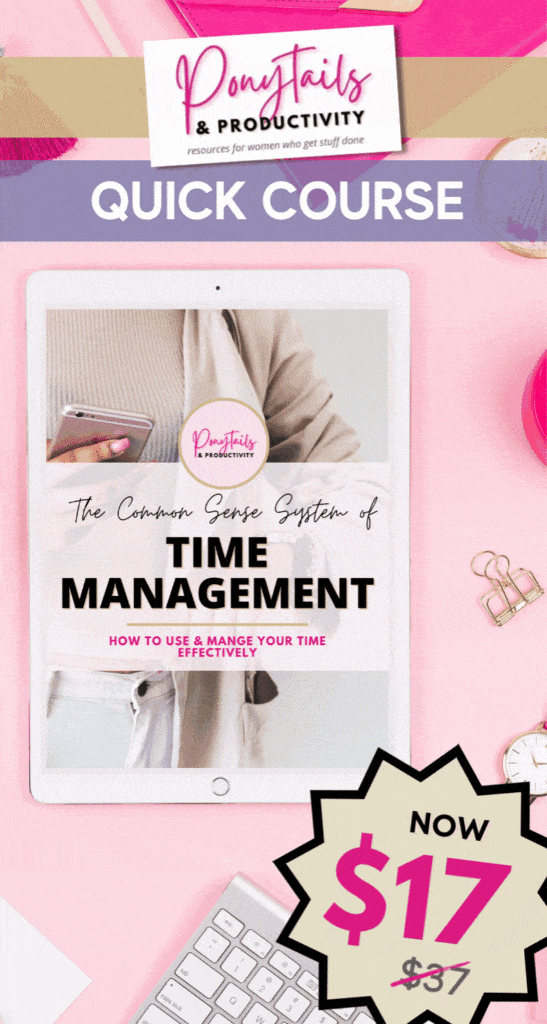 A pedometer (that ISN'T a smart watch!)
This one I'm sure seems strange because for me, being productive means staying at my desk and working, so how does a daily step goal factor into that?!
I consider my pedometer a health and productivity tool – one of my best productivity tools.
Because, remember, getting distracted from your work and under-performing isn't the only danger!
For me, when I'm REALLY in the flow and feeling it, I can forget to take breaks.
While that can be awesome for one day, it very quickly leads to burnout, taking time off, and getting less done overall because it's harder to get back into the flow of things after a couple days spent on the couch.
For me, mental breaks are a completely necessary component of my work flow, and the best mental breaks involve getting up and walking AWAY.
I have a step goal of 10,000 steps a day through the week and 15,000 on weekends (I have kids to run after!).
Making a point to incorporate more movement throughout my day is a non-negotiable productivity tool for me, and the pedometer helps me keep track of that.
I use the Fitbit Luxe and make a point to only connect the Bluetooth function to my phone to transfer my steps data and I DON'T use it to get notifications sent directly to my wrist, because for me that would be disastrous!
Waking up Early
While you might not think of a habit as a tool, for me, this is one habit that transformed my productivity when I started using it.
Learning how to wake up early effectively changed my entire day.
No more rushed mornings, no more sitting down to work at 9 am wondering where to start.
My morning routine now allows me time to myself before anyone else wakes up that I can use to organize my thoughts and plan out my tasks for the day, saving me precious time later trying to figure out what to do with myself!
Waking up early gains you much more than just that extra time having the ability to start your day off with a quiet moment of reflection or planning can get your head in the game and really help you fix your mindset and intentions for the day ahead.
Setting up a morning routine that prioritizes your goals is invaluable for forming a habit of success and keeping you winning.
I take my wake-up-by time as seriously as I take my bed time, and it has really paid off for my productivity.
Automate as many processes as possible
Sometimes the best way to do as much as possible, is to do less yourself. This has been one of the absolute best productivity tools I have come across.
I've always been a frugal person.
I still refuse to pay for convenience in many ways – you'll never catch me paying extra for pre-cut vegetables at the grocery store!
However, sometimes doing things as cheaply as possible (therefore doing as much work yourself instead of paying for tools) doesn't pay off in the long run.
I don't know about you, but I'm busy! I have a lot going on. I got stuff to do. So having productivity tools that actually takes stuff OFF of my plate, instead of adding more to it? Invaluable.
For example? I'm cat sitting for my mom while she's away. The cat is an adorable, fluffy menace who harasses me every morning if I don't feed him immediately.
My son (who is also an adorable menace, although not fluffy), is next to impossible to wake up in the morning, creating a huge time sink where I have to go in his room over and over again to pull him out of bed.
My solution? Assign my son the job of feeding the cat in the mornings. Now the cat wakes up the kid, the kid gets out of bed, and I've reclaimed ten minutes to drink my coffee in peace!
The Best Productivity System for You
I hope some these suggestions will work for you as you look for the best productivity system to fit your needs! Think about what has worked well for you in the past and start from there.
Looking for some more productivity tips?
Check out our best posts:
our quick course on time management!
Pin it on Pinterest: